Whether it is your office, church, school, or retail space our experienced craftsmen pay close attention to detail. We know that your business, church services, and classes still go on even when construction and painting are taking place. That is why our employees know to keep a clean working environment, keep to a schedule, and respect requests.
We frequently use Low VOC products, so that the fumes are kept to a minimum when painting inside. We have done several LEED Projects as well.
The finished product is affected by what the beginning product is. We will make sure the wall is ready for paint before we start. Proper drywall repair is important for a quality finished product. A clean wall is also needed for a quality finish, so we will make sure the wall is clean and stain blocked.
What we offer
These are some of our highlighted interior painting services:
Drywall and Plaster Prep
Sanding
Caulking
Equipment and floor covering
Painted trim and doors
Finishes for Drywall, masonry, metal, wood
Graphics and Murals
Carpentry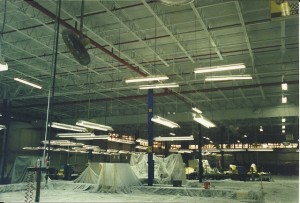 DeMaat Bros. is constantly expanding its services through education, training, and organizational memberships that keep us at the top of the painting industry in West Michigan.