We know the importance of quality painting. It all starts before paint is even applied. That is why we will make sure the surfaces are clean and repaired before we begin painting. People see the outside of your building first, so quality craftsmanship is important.
The exterior of a building takes a lot of abuse from the weather. We use only high quality products that will last, and we also use proper application techniques for long-term durability.
Some projects can be very difficult, especially exteriors. We have the equipment to get to those hard to reach areas. Whether it is high up, above other parts of the building, sloped – we will find a way to get to it. There can also be difficulties with application on certain surfaces. We have the proper application equipment and products that can be applied to any surface.
What we offer
These are some of the services we offer for exterior painting:
Spraying and Brushing
Surface Preparation
Powerwashing
Wood cleaning and refinishing
Boomlifts and scaffolding
Sealers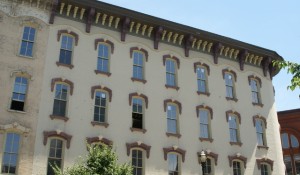 If you have a unique painting need or a difficult painting problem, DeMaat Bros. will work very hard at finding a solution.